Mushroom Pizza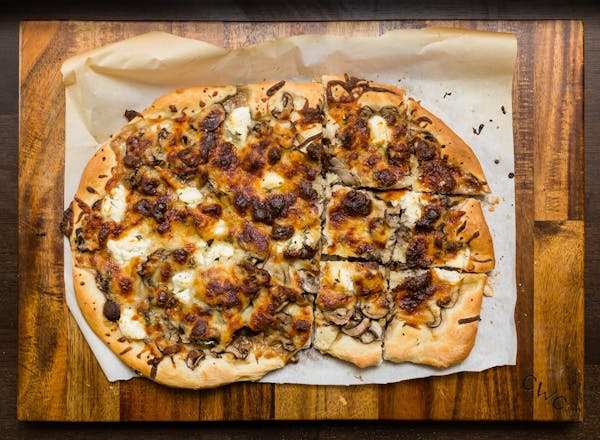 Cater to your umami cravings with this wholesome and hardy mushroom pizza. Layer olive oil, creamy cheeses, and fresh herbs onto any on-hand pre-made crust with a generous helping of mixed mushrooms. In just about one half-hour, then, pull a perfectly melty meal out of your oven. Enjoy this satisfying supper for two right off the cutting board with a crisp cider or fall-flavored brew.
Yield: dinner for 2, Prep time: 15 minutes, Cook time: 10 minutes
Ingredients
1 large pizza dough
3 tbsp. olive oil
1 tbsp. minced garlic
2 1/2 cups chopped mushrooms, (combination of portobella, shiitake, cremini)

1 1/2 cups shredded mozzarella cheese
¼ cup goat cheese
2 sprigs fresh thyme
salt + pepper
Instructions
Preheat oven to 450 degrees.
Rub the pizza dough with the olive oil, garlic, and salt and pepper.
Cover the pizza dough with the chopped mushrooms, leaving 1 inch around the edge for a crust.
Sprinkle with the mozzarella cheese.
Pinch little nuggets of goat cheese and place all over the pizza.
Bake in the oven for 8-10 minutes.
Once the pizza is cooked and the cheese is melted, pull out of the oven and let rest 3 minutes. During this time, pull the leaves of thyme off of the sprigs and sprinkle over the pizza.
Slice and enjoy!
Tips + Tricks
Feel free to use a pre-made pizza dough. Or use this homemade one right here:
16 oz. water (2 cups)
1/8 oz. dry-active yeast
1/2 oz. kosher salt
2 lbs. bread flour
1/4 cup olive oil
Combine the yeast with warm water, NOT hot water.
When the yeast is dissolved, add the rest of the ingredients.
Using a stand mixer fitted with the dough hook attachment, mix together on low until the ingredients come together.
Once the dough has formed into a ball, turn to medium speed and mix together until the sides are all cleaned.
Place in a greased bowl, loosely covered with plastic wrap, and let proof 4-6 hours.
Tips + Tricks:
**This recipe easily could yield 4 pizzas.
**The yeast that is sold in packets are pre-portioned to 1/4 ounce, perfect amount for a doubled recipe. Remember, if you are not doubling the recipe you only need half of the amount in the packets.