Porchetta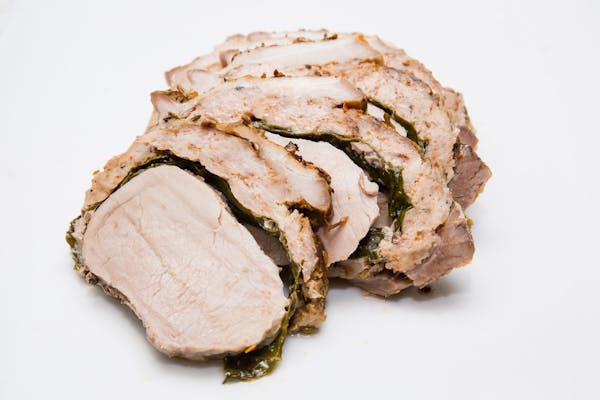 I created this recipe after our 2011 adventure in Italy. To our surprise — and great pleasure — porchetta like this was street food in the little towns we visited, sold underneath awnings cranked off the side of big trucks. The glorious smells wafting from these trucks perfumed blocks and blocks around each one. I couldn't get home fast enough to play with the recipe myself.
I've fiddled with it over the years and landed with the design right here. Porchetta prep is a time commitment for sure, and perfect for a snow day at home. Distract yourself from the wind chill factor with this savory escape into culinary comfort. Sandwiched inside a hunk of crusty bread with sweet slices of persimmon, porchetta will warm you like sunshine in the hills of Perugia.
Yield: 10-12 servings, Prep time: 15 minutes, Cook time: 3-4 hours
Ingredients
1 pork tenderloin, trimmed
1 slab pork belly, *the same length as the tenderloin, and 6 inches wide
1 lb. ground pork
1 tsp. ground chipotle peppers
1 tsp. ground ancho chile
1 tbsp. fennel seeds

½ tbsp. red pepper flakes
½ bunch fresh Italian kale
1 cup white wine
½ cup chicken broth
salt + pepper
butcher's twine
Instructions
Preheat your oven to 275 degrees.
In a mixing bowl, combine your ground pork, chipotles, ancho chile, and salt. Mix together until evenly combined. Make a small patty, sear it, and taste it to make sure the sausage is flavorful and spicy enough; adjust to taste.
Next, prepare your pork belly: Remove the outer layer of skin with a sharp knife. Butterfly the pork belly lengthwise without completely cutting into 2 slices. Lay the pork belly on the cutting board and season both sides with fennel seeds, red pepper flakes, salt and pepper.
Smear the sausage over the pork belly. Remove the stems from the kale and layer on top of the sausage.
Finally, season the tenderloin with salt and pepper and place on top of the kale.
Roll everything together. Place the seam of the porchetta on the cutting board and using butcher's twine, tie in 4 places so it doesn't unroll while cooking.
Lower the porchetta into a roasting pan, pour the wine and broth around it, cover with aluminum foil, and place in the preheated oven until the internal temperature of the tenderloin reaches 140 degrees, approximately 3-4 hours. Remove the foil, and broil for 1-2 minutes, or until the pork belly crisps to a golden brown.
When the porchetta is cooked completely, let rest 10 minutes, remove the butcher's twine, and using a sharp knife, slice thinly.