Salmon + Kale Polenta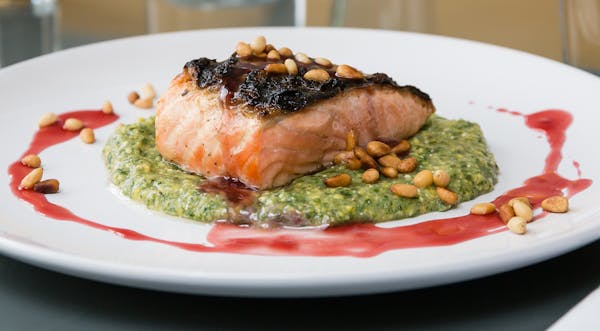 It is our pleasure to share with you the recipe for a fan favorite of our opening menu at CWC, the Restaurant. Delight in the ease with which you can prepare a restaurant-quality meal for your family at home. Salmon, polenta, and a kiss of pomegranate come together beautifully, deliciously, with thoughtfully layered textures, in the design right here.
Yield: 6 entrees , Prep time: 30 minutes , Cook time: 30 minutes
Ingredients
6 fillets salmon, skin on
salt + pepper
oil
4 cups chicken broth
4 cups baby kale
1 cup ground cornmeal

1 tsp. baking soda
½ tsp. nutmeg
2 cups pomegranate juice
3 tbsp. cornstarch
toasted pine nuts
Instructions
In a blender, pulse together the chicken broth and baby kale; transfer to a pot and bring to a boil. (You may have to do this is two phases, depending on the size of your blender.)
In a small pot, bring 1-1/2 cups of pomegranate juice to high heat; reduce by half. In a small bowl, whisk together the remaining half cup of pomegranate juice and cornstarch. When the juice has reduced, whisk in the cornstarch mixture and reduce the heat to medium. Cook until the sauce has thickened and then remove from the heat.
Preheat a cast iron skillet to medium-high heat. Season both sides of the salmon with salt and pepper.
When the broth is boiling, whisk in the cornmeal and cook until it starts to thicken. Once it is thick, whisk in the nutmeg, baking soda, and salt and pepper to taste. Reduce the temp to medium-low and let the polenta cook until the cornmeal is tender.
Once the cast iron skillet is hot enough, add a little oil to the bottom of the pan (when the oil runs, the pan is hot enough). Place the salmon, skin side down, in the pan and let cook for 2 minutes, or until you can see the salmon has cooked 1/3 of the way through.
Flip the salmon and cook for another 2-3 minutes; then, place a lid on top of the salmon to finish cooking it to your preferred doneness.
To plate, spoon the polenta on the bottom of a plate. Top with the salmon, circle the pomegranate sauce around the salmon and top with a sprinkle of the toasted pine nuts.
Tips + Tricks
**To make this easier, prep the pomegranate sauce and toast the pine nuts in advance. You can also blend the kale into the broth to save a step.
**The length of time you need to cook the salmon is dependent completely on the thickness of the salmon. The most important thing is to make sure the pan is hot to create the perfect crust.