Aunt Norma's Sauce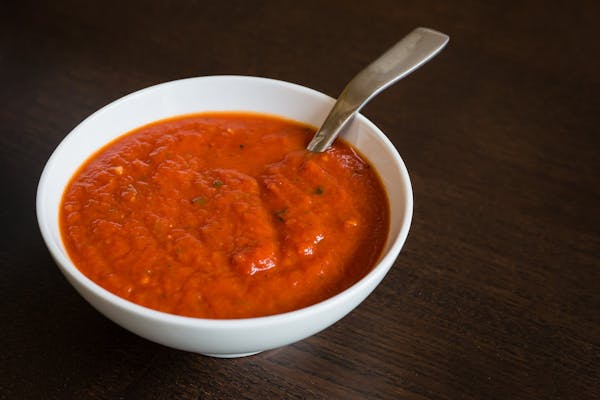 This is the sauce that is coursing through our olive-oil lovin' veins. We are most grateful to our dear Aunt Norma for writing it down in her 1950's cookbook. A batch or two is in our fridge at every point today.
Twirl this baby into your favorite cut of pasta, or make it the saucy layer of your homemade pizza. Bake a couple eggs in a shallow skillet of sauce, or sop it up, right out of the pot, with a hunk of crusty bread.
Yield: 8 servings, Prep time: 5-10 minutes, Cook time: 1 hour
Ingredients
2 large (35 oz.) cans italian tomatoes , NOT drained, and chopped
2 cloves garlic , minced
¼ cup olive oil




2 tbsp. chopped fresh parsley
1 tbsp. salt
¼ tsp. black pepper
1 tbsp. dried basil



Instructions
In a large sauce pot, bring the olive oil to med-high heat. Throw in the garlic, parsley, and basil, and cook a minute or two until garlic is browned.
Pour in the chopped tomatoes and their juices, and season with salt and pepper.
Simmer for about an hour.
Tips + Tricks
**Use San Marzano tomatoes if you can find them.
**Chop the tomatoes in a food processor before you pour them into the toasted garlic and olive oil. Or, wait to chop them in the pot with an immersion blender. Or, pour in the tomatoes whole and let them break down on their own for a chunkier sauce. (You may even roughly squeeze the tomatoes with your hands for a medium texture -- just wait until the sauce has cooled a bit.)