Rhubarb Jam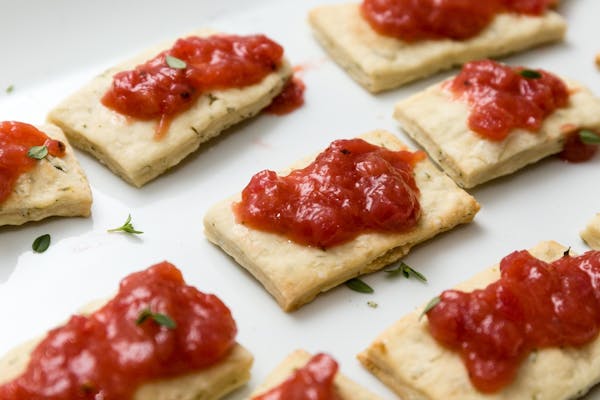 Master this recipe the first time you make it, and play with it every time after that. Tame the natural sourness of rhubarb by adding more sugar for sweetness or more vinegar for extra bite. Add a chile pepper for heat, or fresh herbs instead of ginger for an altogether different flavor.

Smear jam on Fresh Thyme Crackers, Aunt Norma's Biscuits, toast, grilled chicken or fish, or your favorite sandwiches.
Yield: about 1 cup, Prep time: 10 minutes, Cook time: 30 minutes
Ingredients
6 ribs fresh rhubarb
1 small red onion
2 tbsp. sugar

¼ cup rice wine vinegar
salt + pepper
fresh ginger
Instructions
Prep your ingredients: Clean and chop your rhubarb. Mince the red onion. Cut 3 slices off the fresh ginger root.

In a sauté pan combine the rhubarb, red onion, sugar, vinegar, fresh ginger, and season with salt and pepper. Turn to medium heat and cook for 30 minutes, stirring occasionally so nothing burns or sticks to the bottom.

Once all the ingredients have broken down and come together, and there is minimal moisture in the pan, remove the ginger and let the jam cool. Taste and adjust seasonings to your liking.

Store in an air-tight container in your refrigerator. Spoon onto homemade crackers just before serving and top with a few leaves of fresh thyme.