Corn Pudding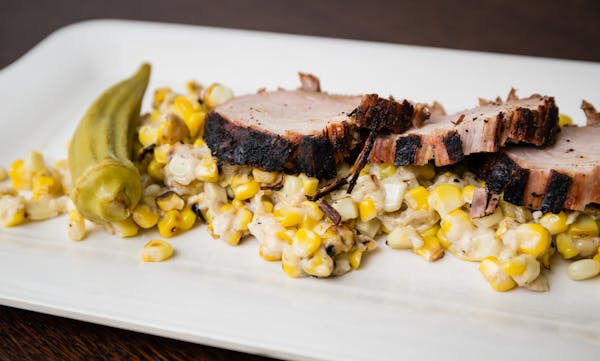 The cheesy, creamy, superfresh side here is our take on the corn pudding we were served as part of an Oklahoma City BBQ spread. It's a savory hat tip to the town that taught us a deeelicious new definition of the term "pudding".
Serve warm as we've suggested, with the BBQ-Rubbed Pork Tenderloin sliced right on top, and a Hot Pickled Okra garnish. Or, fold shredded brisket right into the pudding and offer it up as a meal in itself; top with some crunchy slaw, diced raw jalapeño, and a squeeze of fresh lime, or a poached egg for a stunning brunch.
Yield: 3-4 cups, Prep time: 10 minutes, Cook time: 20 minutes
Ingredients
4 ears corn on the cob
4 oz. cream cheese
½ cup shredded pepper jack cheese

1 tbsp. butter
salt + pepper
Instructions
Shuck and clean the ears of corn. On a hot grill or under the broiler, lightly char the exterior of the corn; cut the kernels off the cobs.
Melt the butter in a large sauté pan over medium-high heat. Add the corn and cream cheese to the pan and cook until everything is melted together uniformly.
Once the cream cheese has melted, stir the pepper jack cheese into the hot corn and season with salt and pepper; stir together until everything has melted.
Turn off the heat and serve hot.