Giardiniera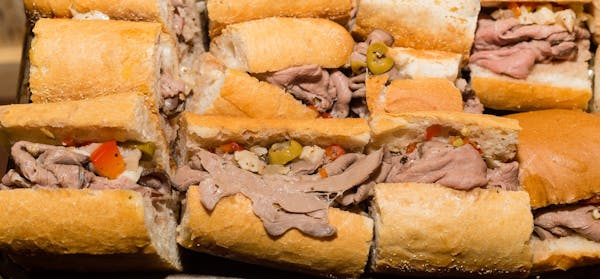 "Giardiniera" refers to pickled vegetables, in varying degrees of heat. In Chicago, where Caitlin attended culinary school, hot giardiniera is offered on everything from sandwiches to pizzas.
Omit altogether the jalapeños and crushed red pepper called for in this recipe if you are not a fan of heat. If you can't get enough, however, substitute a hotter pepper like a Serrano, or even a scotch bonnet (but, even if you're brave, definitely only use one). Serve this as a condiment for the ultimate addition of heat and crunch; reserve the flavor-rich oil as a meat marinade, or even a salad dressing.
Yield: about 6 cups, Prep time: 30-40 minutes, Cook time: 2 hours
Ingredients
½ white onion
4 ribs celery
3 carrots
2 red bell peppers
1 5-oz. jar sliced pimento-stuffed green olives, drained
1 head cauliflower
1 bulb garlic

8 jalapeños
1 tsp. red pepper flakes
2 tbsp. dried Italian seasoning
1.5 cups red wine vinegar
1.5 cups olive oil
4 tbsp. kosher salt
Instructions
Preheat the oven to 300 degrees.
Prep the ingredients: Finely dice the onion, celery, carrots, bell peppers, and cauliflower florets. Throw all of it — including the jar of olives — into a small, deep roasting pan. Slice the jalapeños in half lengthwise. Halve the bulb of garlic widthwise so each half remains intact.
In a small pot combine the vinegar, olive oil, dried Italian seasoning, red pepper flakes, salt, halved jalapeños and garlic; bring to a boil. Let the liquid cook for 5 minutes and then pour over the diced vegetables.
Cover with foil and place in the oven to cook for 2 hours.
When the 2 hours have passed, pull from the oven, remove the foil, and let cool. Once the giardiniera has cooled, pull out the jalapeño and garlic halves.
Store in an airtight container in the refrigerator and spoon over Hot Beef Sandwiches and everything else!