Pecan Pie Brownies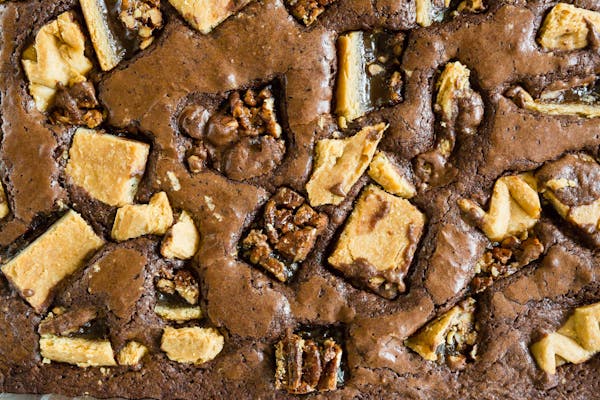 These bad boys need very little explanation. They are decadent and absolutely to-die-for. Perfect for entertaining. And host gifts. And teacher gifts. And private time.
Just 5 ingredients. You can thank us later.
Yield: 20+ , Prep time: 5-10 minutes , Cook time: 30-40 minutes
Ingredients
| | |
| --- | --- |
| 1 box brownie mix , + oil, water, and eggs according to package | 1 half pecan pie , frozen |
Instructions
Preheat your oven according to brownie directions and grease a 13"x9" baking dish with nonstick spray.
Follow the instructions for the brownies; mix together accordingly. Spread half of the batter into the greased pan.
Dice your pecan pie while it is still frozen and sprinkle over the brownie batter. Pour the rest of the batter over the hunks of pie.
Bake for the amount of time called for on the box plus an extra 5-10 minutes. (The added pie lengthens the time -- use a toothpick in the center of the brownies to check for doneness.)
When the brownies are finished, remove from the oven and let cool.
Slice and serve with a dollop of whipped cream and toasted pecans.
Tips + Tricks
**Make sure the pie is still frozen when you dice it. It not only makes it easier to cut, but it also ensures there are pockets of pie throughout the brownies.