Homemade Blintz Recipe (Copy) (Copy)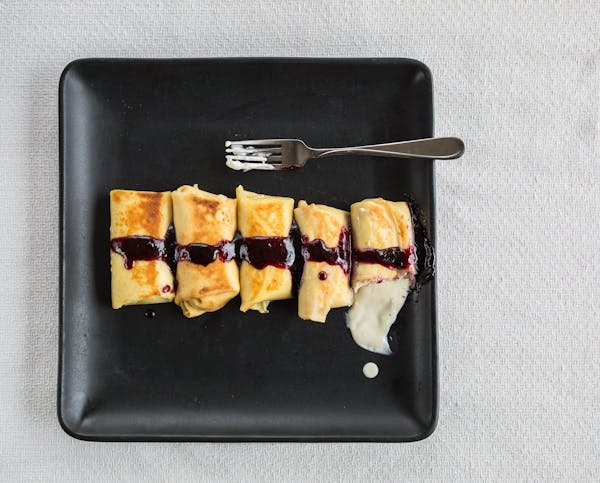 Put a casual spin on this extra special recipe for any given Saturday by substituting good ol' fashioned white bread for the crepes: Sandwich the cream mixture between 2 slices of white bread. Whisk together 3 eggs and a splash of milk. Dunk the sandwiches into the egg mixture and crisp in a buttered sauté pan until the eggs are cooked. Top with melted fruit jam and serve with a side of sausage.
Yield: about 15 blintzes, Prep time: 30 minutes, Cook time: 45 minutes
Ingredients
15 oz ricotta , whole-milk
16 oz cream cheese
2 egg
1 tsp vanilla
1/3 cup sugar

1 tsp cinnamon
salt
butter
jam , blueberry
1 batch of crepes
Instructions
In a food processor combine the cream cheese, ricotta, eggs, sugar, vanilla, cinnamon, and salt. Blend to a smooth consistency, transfer to an airtight container, and store in the refrigerator until you are ready to use.

Mix together the crepe batter and prepare 15 thin crepes according to this Crepe recipe.

Assemble the blintzes: Spread 5 crepes at a time in a single layer. Add 2-4 tablespoons of the cream filling to the center of the crepes. Next, fold the sides of each crepe in and roll upward to close. Repeat until all of the blintzes are assembled.

In a large nonstick sauté pan, melt 2 tablespoons of butter over medium-high heat. Once the butter is melted and bubbling, add half of the blintzes, seam side down.

Let the blintzes cook 1-2 minutes, or until they are golden brown and crispy, and flip to crisp the second side. When both sides of the blintzes are crispy, plate and serve with melted blueberry jam.
Tips + Tricks
**Assemble the crepes and filling into blintzes ahead of time – place them on a cookie sheet lined with parchment paper, cover in plastic wrap, and keep refrigerated until you are ready to crisp them for service.