Better Bacon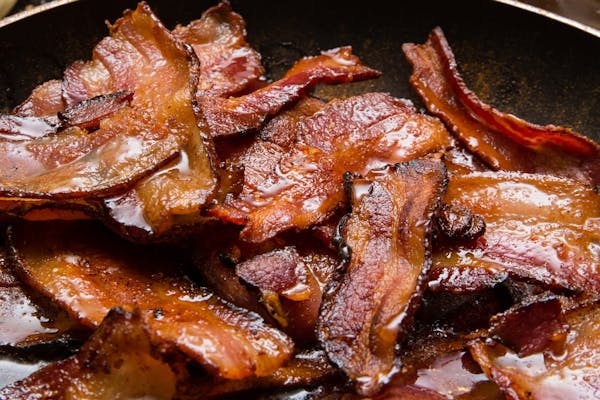 This might be the very best thing I got out of culinary school. One of my favorite chef-instructors taught it to me early on and, well, it's brilliant. Sweet and savory all.day.long.
Since loooong before bacon was a trend, we've been serving this up on everything from BLTs to club burgers, brunch plates to cupcakes. On anything that bacon is good, Better Bacon is...BETTER.
Yield: 6 servings, Prep time: 5 minutes, Cook time: 10 minutes
Ingredients
1 lb. bacon
½ cup honey

1 tbsp. cayenne pepper
Instructions
Place a single layer of bacon in a dry sauté pan.
Bring to high heat and cook, flipping each piece several times, until the bacon is crispy on both sides. Drain crispy bacon drain on paper towels as you finish cooking the rest of it.
Transfer the drained bacon to a serving plate; drizzle with honey and dust with cayenne -- a pinch at a time, to your liking. Serve right away.
Tips + Tricks
**If your pan starts to fill up with fat, drain between the rounds of bacon.