Atlantic Pie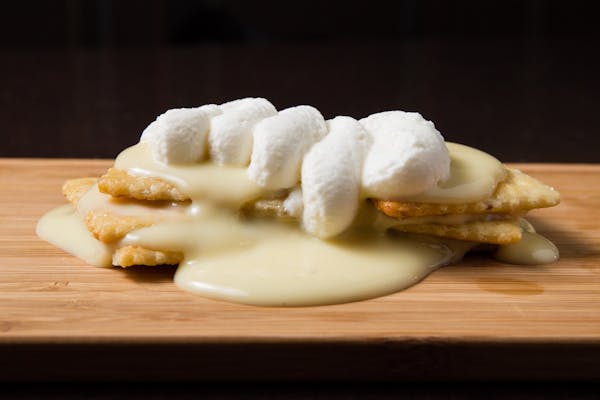 Atlantic Pie is a North Carolina specialty, offered on the coast, traditionally served in classic pie format with a crust, a custard center, and a whipped cream finish. This is our play on the flavor combination (with much less work).
Turn this into more of a family-style dessert by layering just one large bowl of the crackers and custard into a gorgeous trifle. *You can make this up to a day in advance and the crackers will still maintain some texture.
Yield: 12 small portions, Prep time: 30 minutes, Cook time: 10 minutes
Ingredients
1 sleeve saltines
½ cup butter, melted
¼ cup sugar
2 14-oz. cans sweetened condensed milk
8 egg yolks

¾ cup fresh lemon juice
1 cup heavy whipping cream
2 tbsp. powdered sugar
1 tsp. vanilla

Instructions
Preheat the oven to 400 degrees.

In a mixing bowl, toss together the saltines, melted butter and sugar until the crackers are evenly coated; spread on a cookie sheet and bake for 10 minutes.

While the crackers are baking, whisk together the sweetened condensed milk, egg yolks, and fresh lemon juice. Refrigerate at least two hours to give the custard a chance to set up.

Once the crackers have cooled, and the custard has thickened in the fridge, assemble the desserts: Place a cracker at the bottom of a small bowl, top with a hearty spoonful of the lemon custard, and follow twice more with alternating layers of crackers and custard. Repeat in the rest of your small bowls. Keep in the refrigerator before serving.

Just before serving, then, beat your whipping cream to stiff peaks with the vanilla and powdered sugar. Dollop fresh whipped cream on top of the pies and enjoy!
Tips + Tricks
**Know that the acid of the fresh lemon juice cooks the raw egg yolks.