Fried Goat Cheese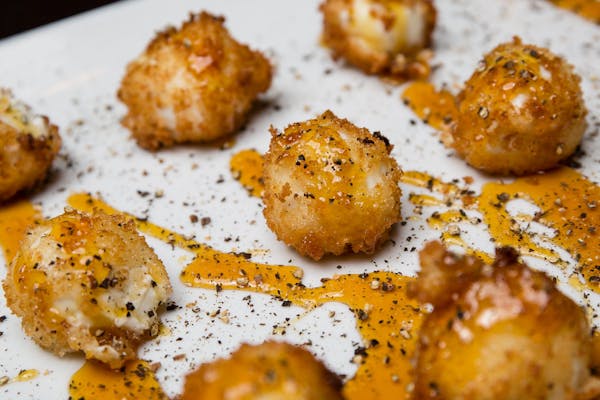 File this brilliant design alongside your favorite Nutella, bacon, and wine recipes. You'll want to keep it handy because -- just like the aforementioned buzzwords -- "pan-fried goat cheese" will bring down the house in the very same way. Trust us. The only thing that could make the phrase any more buzz-worthy is, well, a drizzle of sorghum.
This baby's a sweet and savory party in your mouth. Make it happen.
Yield: 2-3 dozen , Prep time: 30-45 minutes , Cook time: 5-10 minutes
Ingredients
11 oz. goat cheese
2 cups flour
2 cups buttermilk
2 cups panko breadcrumbs

¼ cup sorghum
salt + pepper
vegetable oil
Instructions
Roll the goat cheese into acorn-sized balls, approximately 1 Tbsp. apiece, yielding about 2-3 dozen balls.
Next, create the 3-bowl breading station: one bowl full of flour seasoned generously with salt, a bowl with buttermilk, and a bowl with the breadcrumbs.
Now, dredge the goat cheese in the flour, then the buttermilk, roll it through the breadcrumbs, again in the buttermilk and finally, through the breadcrumbs again. Spread the breaded balls on a cookie sheet in a single layer and refrigerate until you are ready to fry them.
Just before serving, then, pour vegetable oil into a sauté pan, to about an inch up the sides, and bring to medium-high heat. Lay out paper towels for resting the fried balls. Test the temperature of the oil by sprinkling some breadcrumbs into it. If they rise quickly and start to toast, it's just right; if they sink, the oil is not ready.
When the oil is hot enough, carefully drop a handful of the goat cheese balls into the sauté pan using a slotted spoon. Move the balls around so they fry evenly and quickly. Once all sides are golden brown, remove from the oil and let rest on the paper towels. Season with salt while they are still warm.
Repeat frying until all of the goat cheese is cooked. When you are ready to serve, transfer all of the warm goat cheese to a platter, drizzle with sorghum, and finish with a generous grind of fresh pepper. Serve right away.
Tips + Tricks
**You can roll and coat the goat cheese up to a day in advance, but make sure to keep in the refrigerator. Also, if the goat cheese is soft and falling apart while you are rolling it into balls, place in the freezer for 30 minutes before breading it.
**Sorghum can be found at most specialty markets, but you could also drizzle robust or dark molasses in its place.