Spring Rolls with Miso Mayo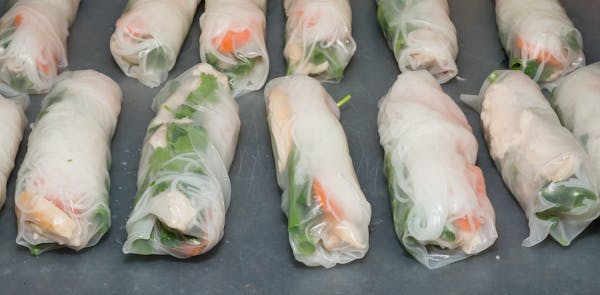 Save this Asian-inspired design for your next spin through the international aisle. Rice paper, rice noodles, and miso soup base are readily available at most groceries these days.
Use the recipe as the template that it is and play with the fillings that satisfy your cravings. Sriracha-sautéed shrimp, thinly sliced beef, even leftover turkey, are delicious in place of the chicken. Fresh mint or basil are bright substitutions for the cilantro. And cucumber, radish, and chopped peanuts are classic takes too. Finish whichever combination you concoct with a zippy drizzle of miso mayo.
Yield: 12+ rolls, Prep time: 45 minutes, Cook time: none
Ingredients
rice paper
1 pkg. rice noodles
1 bunch cilantro
2 bunches green onions
1-2 cups shredded carrots

roasted chicken
½ cup mayo
1 tbsp. dijon mustard
1-2 tsp. miso
1 tbsp. rice wine vinegar
Instructions
Prep your ingredients: Cook the noodles according to the packaging. Pick the cilantro. Cut the green onions into 3-inch-long pieces. Shred the carrots and the chicken. Place everything on a cookie sheet to keep it organized.

Fill a large mixing bowl with hot water. Place 1 piece of rice paper in the hot water. Let the paper sit in the water for 30 seconds, or until pliable. When it is flexible, place the paper on your work counter and place another sheet in the water while you assemble the first spring roll.

To assemble, place 2-4 lengths of green onion in the center of the wrapper. Add as much or as little as you like of the cilantro, a hearty pinch of rice noodles, some shredded carrots, and the shredded chicken.
When the filling is ready, fold the sides of the wrapper into the center of the roll. Next, taking the bottom edge of the wrapper, tightly roll the ingredients together. Place the completed spring rolls on a cookie sheet lined with a moist paper towel (so the rolls don't stick to the bottom of the cookie sheets and tear).

Repeat until your ingredients are used up or you have created enough for your meal. Cover with a moist paper towel, cover loosely with plastic wrap, and refrigerate.
While the rolls chill, make the miso mayo: Whisk together the mayo, dijon mustard, miso, and vinegar. Adjust the seasoning to your liking. If you want it to be saltier, add more miso. For more tang, add more vinegar. To mellow everything out, add more mayonnaise. Transfer to an air-tight container and store in the fridge. Offer on the side or drizzled over top of your spring rolls.
Tips + Tricks
**Assemble the rolls up to 12 hours in advance, but not more than that.
**If you cannot find miso, substitute soy sauce, fish sauce, or even Worcestershire.**Save leftovers of the mayo to smear on a crispy salmon sandwich, a burger layered with avocado, or as a dipping sauce for edamame.