Zucchini Carbonara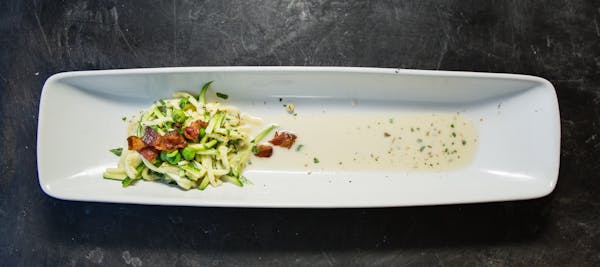 Honor the most brilliant shades of the spring season with this twist on traditional carbonara. Sliced into ribbons, fresh zucchini becomes a pasta-like canvas, while green peas, tossed with crispy bacon, are the ultimate crown.
Shop the Saturday-morning farmer's markets with this in mind and serve it for lunch later in the day. Or, save it for Sunday supper and sop it up with a hunk of crusty bread. Kissed -- not coated -- in sauce, this truly light design comes together in minutes.
Yield: 8, Prep time: 20 minutes, Cook time: 5 minutes
Ingredients
4 zucchini
1 cup heavy whipping cream
½ cup grated parmesan
2 eggs
2 cloves garlic

½ tsp. dried oregano
salt + pepper
4 slices bacon
½ cup green peas
Instructions
Prepare your zucchini: Wash the outside and remove both ends. Using either a mandolin, spiralizer, or a knife, slicing by hand, cut the zucchini into pasta-sized ribbons. Place in a bowl until ready to cook.

Cut the bacon into lardons and cook until golden brown and crispy. Strain from the fat, combine with the peas, and set aside.
In a mixing bowl, whisk together the cream, Parmesan, eggs, minced garlic, oregano, salt and pepper.
Fill a sauce pot with water, season with salt and bring to a boil. When the water is boiling, place the zucchini in the water and cook for 30 seconds. Remove the zucchini from the water and toss it directly into the cream sauce (**the eggs will cook when tossed with the hot ribbons of zucchini**).
Warm the bacon-and-pea mixture. Transfer the zucchini to a serving bowl, spoon over a little extra sauce, and garnish with the bacon and peas. Serve warm.
Tips + Tricks
**You want to cook the zucchini quickly; do not leave it in the water too long. You're aiming for an al dente-type texture with the zucchini, nothing mushy.