Bacon Marmalade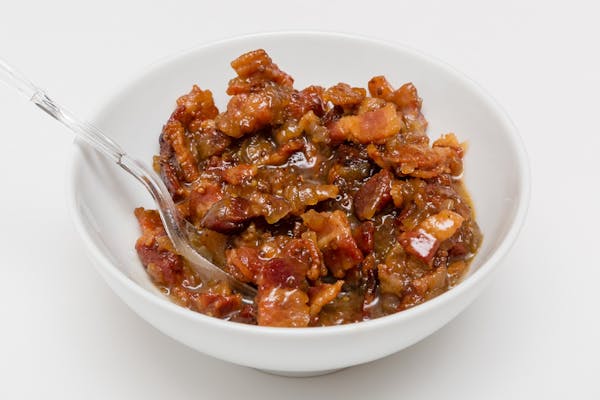 This baby reeeaaally brings it. Smoky, salty, and sweet with a bite, it's the perfect add to pizzas, sandwiches, french toast, pancakes, smashed white potatoes, baked sweet potatoes. And anything green. Enjoy.
Yield: 2-3 cups, Prep time: 10 minutes, Cook time: 30-45 minutes
Ingredients
1 lb. bacon
1 white onion
½ cup brown sugar

½ cup apple cider vinegar
2 tbsp. whole grain mustard
fresh cracked pepper

Instructions
Prep your ingredients: cut the bacon into lardons and finely mince the onions.

Crisp the bacon in a large saute pan over high heat until perfectly browned; turn off the heat. Remove the bacon from the fat with a slotted spoon and drain all but 1/4 cup of the fat from the pan.

Return the 1/4 cup of fat to the stove top and bring to medium heat. Add the minced onion and caramelize until tender.

When the onions are golden, add the brown sugar and cook until the sugar has dissolved and starts to become a caramel. Once it starts to bubble, stir in the vinegar and mustard; cook until the vinegar starts to evaporate.
Finally, season with black pepper and spoon the crispy bacon back into the pan; stir together and remove from heat.

Let cool completely and then transfer to an airtight container and refrigerate.