Char Cheddar Burger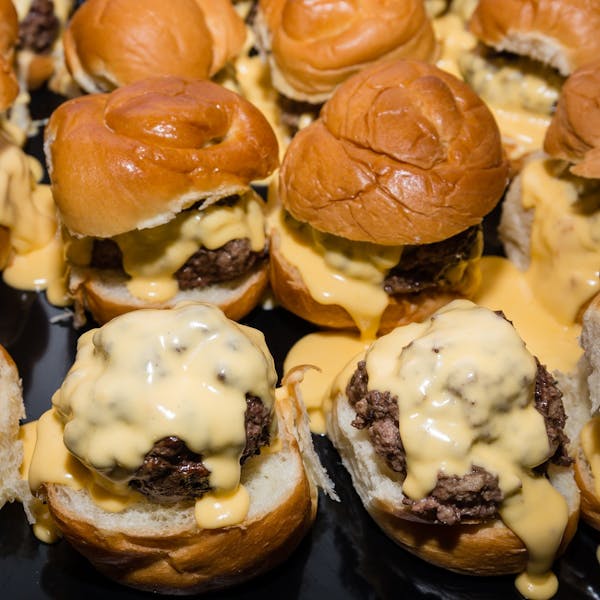 This super cheesy mess of a burger is our take on the Weiner Circle char cheddars Caitlin craved the whole time she attended culinary school in Chicago. Serve it up hot off the grill wherever this finds you.
The measurements here will make a platter of slider-size sandwiches perfect for outdoor entertaining. Use buttery dinner rolls for the best flavor and texture, and consider adding some serious kick to the sauce with sriracha, cayenne, or even paprika. Really cover the burger in sauce, and be sure to keep lots of extra napkins on hand.
Yield: 12 sandwiches, Prep time: 10 minutes, Cook time: 20-30 minutes
Ingredients
2 cups heavy whipping cream
2-3 cups shredded cheddar
3 lbs. ground beef

salt + pepper
1 dozen dinner rolls
Instructions
Pour the cream into a small pot and bring to medium-high heat. **Don't go far because it can bubble over quickly.** When the cream starts rising, reduce the heat to low and whisk in the cheddar cheese. Stir until combined completely; keep warm until service.
Preheat the grill.
Season the ground beef with salt and pepper. Form into 12 equal 4-oz. burgers. Cook to your desired doneness.
Halve the rolls horizontally and place a burger on each one. Just before service, generously spoon the sauce over all of them. Enjoy right away.