Strawberry-Rhubarb Gooey Butter Cake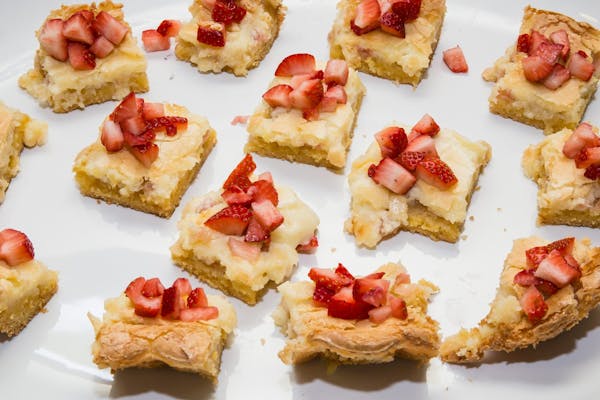 Ummm...not sure what to say about this recipe. No doubt you're salivating just from its title.
The perfect mash-up of two classic comfort recipes, this baby's easy to whip together too. A real doozy! ENJOY.
Yield: 24 pieces, Prep time: 15-20 minutes, Cook time: 30-45 minutes
Ingredients
1 stick unsalted butter , melted
1 box yellow cake mix , (18 oz.)
3 eggs
8 oz. cream cheese , softened
4 cups powdered sugar

1 tsp. vanilla extract
4 stalks rhubarb , chopped
1 carton fresh strawberries , diced
salt

Instructions
Preheat oven to 350 degrees.

In a bowl, stir together the cake mix, melted butter, and 1 egg; press into the bottom of a greased 13 x 9 brownie pan.
Sprinkle the chopped rhubarb over the cake, making sure there will be rhubarb in every bite. Now, sprinkle with a little salt.

Next, using your stand mixer with the paddle attachment, whip together the cream cheese, last 2 eggs, vanilla, and powdered sugar, adding just one cup at a time. Beat together until there are no lumps. Pour over the rhubarb and spread out evenly.

Place in the oven and bake for 30-45 minutes. When the edges are golden brown and crispy, a thin crust has formed over the entire top, and the center no longer jiggles, remove from the oven and let cool.6. After the gooey butter cake has cooled, store in the refrigerator. Cut into squares, served chilled, and topped with the fresh strawberries.
Tips + Tricks
**Wait to add the fresh strawberries as garnish, just before service, for brightness and texture. Don't add them to the cake because the added moisture will compromise the texture of the cake as it bakes.