Carrot-Orange Yogurt Bowl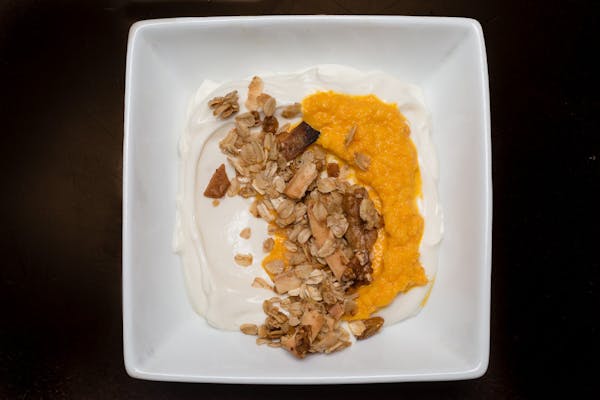 Any weekend morning, set out all of the ingredients for this recipe and invite your family to layer their breakfast bowls to their liking.
Yield: 2-3 cups, Prep time: 10 minutes, Cook time: 30 minutes
Ingredients
3 cups baby carrots
¼ cup honey
½ cup orange juice, divided

½ cup cream
salt
honey greek yogurt

Instructions
Preheat the oven to 400 degrees.

On a parchment-lined cookie sheet, spread your carrots and drizzle with the honey, 1/4 cup of orange juice, and a pinch of salt. Cover with foil and place in the oven for 20-30 minutes.

When the carrots are tender, remove from the oven and let cool until you can touch them.

When they have cooled, slide the carrots and their roasting juices into a food processor; pulse together. As they blend, slowly pour the last 1/4 cup of orange juice and cream into the spout.

Before serving, warm gently, in the microwave or in a sauté pan. Fill a small bowl halfway with honey-flavored Greek yogurt, smear a hearty spoonful of the warm carrot puree on top, and finish to your liking with the homemade Coconut-Walnut Granola.
Tips + Tricks
**Save leftover carrot puree to use as a surprising and wonderful layer in a cake, or as a side or sauce to complement any spicy entrée.